Forever Loved Pet Photo Memorial Personalized Keepsake Box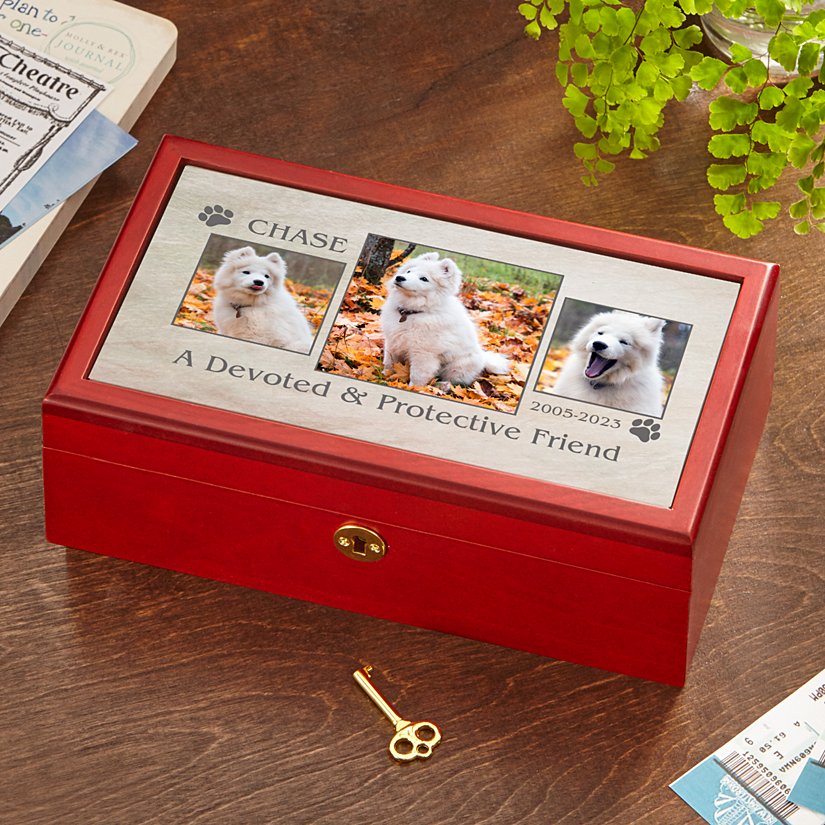 Product Description
A handsome tribute to a pet who left a lasting legacy. Keep the treasured mementos you can touch and feel safely protected under lock and key.
Beautifully personalize with 3 special photos, your pet's name up to 12 characters, memorial year(s) and message up to 35 characters
Handsomely crafted of solid wood with a cherry finish
Measures 8.625"Wx4.75"H
Includes privacy lock and key
Forever Loved Pet Photo Memorial Personalized Keepsake Box
Personalized with care in the USA
PERFECT GIFT GUARANTEE Your personalized gift is a unique and lasting way to honor your loved one. We'll make sure you're 100% satisfied, or your money back.
A handsome tribute to a pet who left a lasting legacy. Keep the treasured mementos you can touch and feel safely protected under lock and key.

Beautifully personalize with 3 special photos, your pet's name up to 12 characters, memorial year(s) and message up to 35 characters
Handsomely crafted of solid wood with a cherry finish
Measures 8.625"Wx4.75"H
Includes privacy lock and key