Heavenly Home Memorial Cross Personalized Picture Frame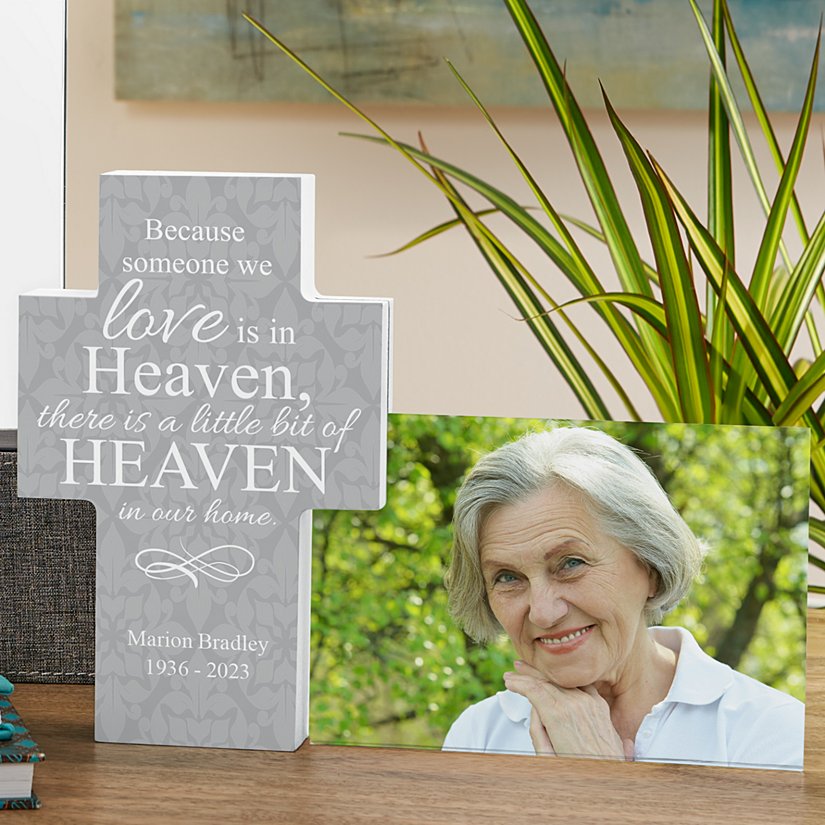 Product Description
Create a heavenly space in your home where a loved one's memory will always live on.
Thoughtfully personalize with any 1- to 2-line message, up to 18 characters on each line
"Because someone we Love is in Heaven, there is a little bit of Heaven in our home" will always appear
Crafted of wood and acrylic
Cross measures 4.5"x7"; holds any cherished 4"x6" photo
Acrylic frame can be positioned vertical or horizontal
Wipe clean with damp cloth
Heavenly Home Memorial Cross Personalized Picture Frame
Personalized with care in the USA
PERFECT GIFT GUARANTEE Your personalized gift is a unique and lasting way to honor your loved one. We'll make sure you're 100% satisfied, or your money back.
Create a heavenly space in your home where a loved one's memory will always live on.

Thoughtfully personalize with any 1- to 2-line message, up to 18 characters on each line
"Because someone we Love is in Heaven, there is a little bit of Heaven in our home" will always appear
Crafted of wood and acrylic
Cross measures 4.5"x7"; holds any cherished 4"x6" photo
Acrylic frame can be positioned vertical or horizontal
Wipe clean with damp cloth