Angel Paws Memorial Personalized Cuff Bracelet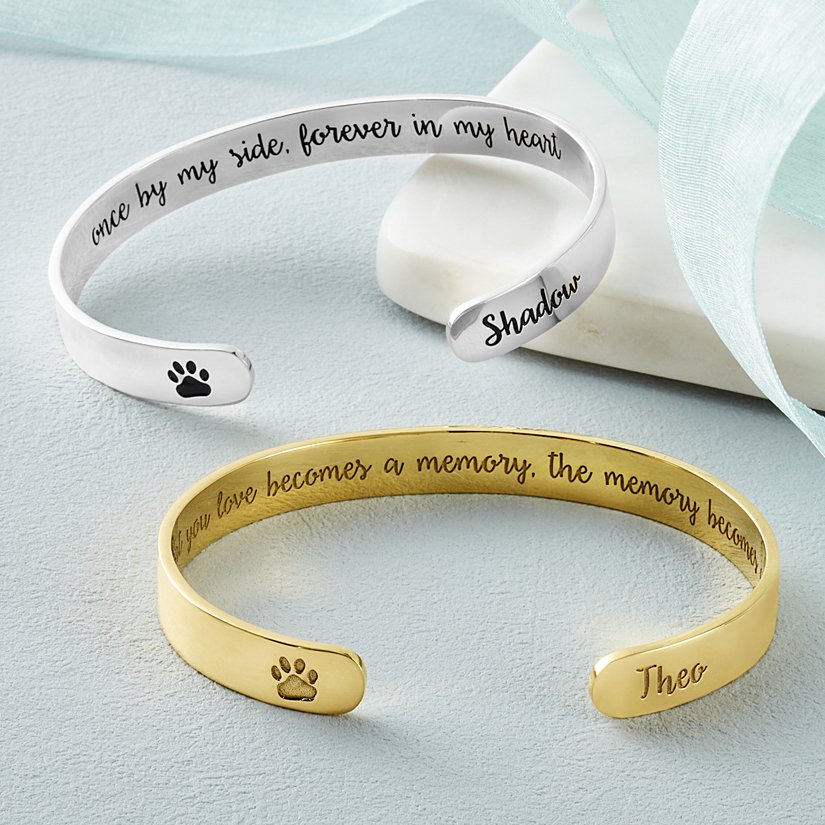 Product Description
Wear a piece of your heart everywhere you go. Your departed fur angel will live forever in your heart and soul with this elegant memorial bracelet.
Lovingly personalize on the outside with your pet's name, up to 9 characters, and any message up to 50 characters on the inside
Choose from sterling silver or 18K plated gold
Circumference, including the opening, measures 7"
Use a damp, soft piece of jewelry cloth to clean; avoid chemically treated cleaning pads or solution
New

Angel Paws Memorial Personalized Cuff Bracelet
Personalized with care in the USA
PERFECT GIFT GUARANTEE Your personalized gift is a unique and lasting way to honor your loved one. We'll make sure you're 100% satisfied, or your money back.
Wear a piece of your heart everywhere you go. Your departed fur angel will live forever in your heart and soul with this elegant memorial bracelet.

Lovingly personalize on the outside with your pet's name, up to 9 characters, and any message up to 50 characters on the inside
Choose from sterling silver or 18K plated gold
Circumference, including the opening, measures 7"
Use a damp, soft piece of jewelry cloth to clean; avoid chemically treated cleaning pads or solution